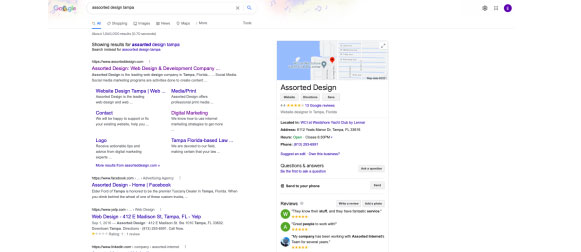 What Is Google My Business & Why Is It Important?
Picture this. You're on a road trip with your family and it's almost time for dinner. You have no idea what's around, but your family concludes they're in the mood for Mexican food. You whip out your smartphone and open Google. With a quick search of "Mexican food near me" you are presented with a plethora of potential dining options all within a 5-mile radius. You pick the one with the best reviews and viola! Dinner is served.
What is Google My Business?
Google My Business (GMB) is an online tool that allows businesses to create listings and manage their presence on Google Search and Google Maps. It is free, easy-to-use, and an essential tool for local businesses to display their information and attract consumers.
Store hours, contact information, photos, and reviews are just a few of the key components listed on a GMB page. When a consumer searches your business, or keywords related to your business, the first thing they'll see is your GMB page. You want to ensure your company's appearance is enticing and provides consumers with all the information they need to visit, make a purchase, or contact your company.
When a brand search is performed, information from your GMB page will appear in the Google Knowledge Panel. This is the box that appears in the top right corner of your desktop and provides consumers with a quick snippet of your most important information, usually known as the NAP (Name, Address, Phone Number).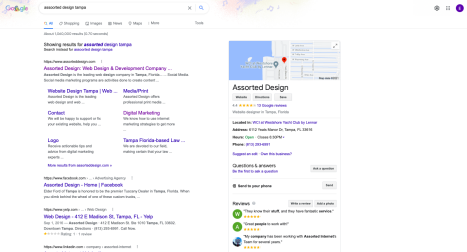 Above is an example of Assorted Design's Knowledge Panel. Here you can see the business's location, address, phone number, and hours are clearly listed. Along with a few key reviews which give the consumer more insight into how people actually feel about the business. GMB reviews also help your business ascend in Google's search engine rankings. So, had I instead searched "Tampa web company", Assorted Design would rank higher on the Search Engine Results Page than a company that had no GMB page or reviews.
With Google searches containing the phrase "near me" increasing by more than 500 percent in the past years, it is evident that consumers are looking to Google to find which local businesses to visit. Google Maps helps businesses gain visibility through a feature known as Map Pack.
Basically, what Map Pack does is provide a list of GMB pages in a particular location that fit the criteria of whatever you're searching for. For example, if I were to search 'Mexican Food" on Google maps, this is what I would see: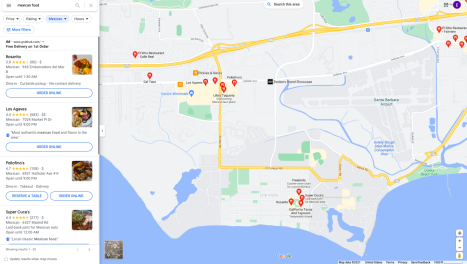 Map Pack provides me with a list of local GMB pages that fit the criteria of my search. These options will ultimately be what I choose between as I decide which business to visit.
Why is Google My Business Important For My Company?
Google is the #1 search engine in the world, encompassing over 70% of the search market share. Utilizing GMB is not only free, but will undoubtedly increase your business exposure, help foster customer interaction, and provide your target audience with useful information. GMB has the largest impact on where your business will appear on Google's Search Engine Results Page. Without it, your company stands little chance of being noticed or chosen online. Here are 4 different ways in which GMB benefits your business and your consumers:
Easy comparison. GMB pages make comparing and contrasting similar businesses as simple as clicking a button. If your GMB page ranks high, provides enough information, and offers relevant services, you can easily garner a new customer.
Increased convenience. Having a GMB page that lists all your important information right off the bat allows consumers to quickly decipher what they need from your company. This makes life easier for you and quickly provides your customers with the necessary components to move forward with their transactions.
Quick customer acquisition. GMB provides useful features such as the 'Book An Appointment' tab. This allows for customers to book an appointment with your business in as little as one click, saving both you and your consumer valuable time and energy.
Helpful feedback. Google allows consumers to leave ratings regarding their experience with your business underneath your GMB page. Customers can post photos, comments, and opinions about your company that will not only give you insight into how your business can improve, but also increase your company's rankings in the SERP.
Google My Business is an essential tool for any company, regardless of size or industry. Skip on GMB, and you miss out on potential sales, exposure, and revenue for your business. GMB is not only free, but one of the best ways to appear on the Google search page. With this resource, your business has the ability to maximize its online visibility, increase traffic to the physical storefront, and inevitably increase customer acquisition.
Why wait any longer? Contact Assorted Design for help creating your very own Google My Business page. Call us at 1-800-975-6577 or visit our website here to discuss the creation or optimization of your GMB page, today!