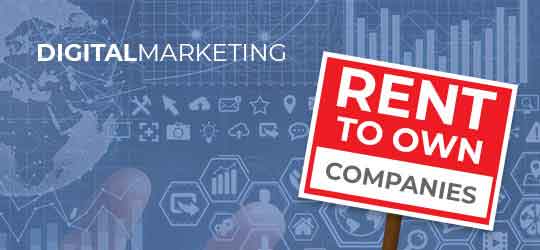 Four Digital Marketing Ideas For Rent To Own Companies
The use of digital marketing for your rent to own store is vital. However, many rent to own retailers discover that they are intimidated by digital marketing ideas because there are so many different ways to approach the process and a number of parts that are always in motion. Marketing on the web does not need to be an impediment in the road, no matter how big or small you consider your rent to own operation. Here are several effective ways to boost your online marketing.
REFRESH WEBSITE CONTENT
The majority of people who make a purchase in-store will first research a retail store online. This means that it is vital that your site looks good, is optimized and is user-friendly to people on mobile devices as well as laptop users. If you have a website that is a little on the old side or one that lacks easy functionality, you will want to consider a facelift. The website update can and should include:
New colors
Intuitive design
Updated and optimized product photos.
The key goal in any rent to own website redesign needs to include ripping the core apart to determine which factors will improve the user experience.
TALK TO AN EXPERT TO BUILD A COMPREHENSIVE DIGITAL MARKETING PLAN
The right marketing strategy for a rent to own retailer needs to cover each base. The plan can leave no path unconsidered. To build a digital marketing plan that is comprehensive, you must talk to professionals who can step back and look at your organization with an objective eye.
ENGAGE WITH YOUR POTENTIAL CUSTOMER WHERE HE OR SHE LIVES ONLINE
One important factor in rent to own marketing is determining where you can find potential customers and engaging these people on this digital platform. You need to talk to them instead of getting them to search for you, because, on their own, they will not.
TRAIN YOUR TEAM
When your rent to own digital marketing efforts start to work, it is incredibly important that your in-store team understands how to get an agreement in place. The digital leads we help generate only matter to you if they are converted to sales. This means you will need to provide your sales specialists with appropriate training to help new customers through the buying journey. Please do keep in mind that this might require written materials, practice conducting demonstrations and side-by-side digital comparisons. Talk to all team members to determine what they need in-store to make the sale.
WHAT WILL GOOD DIGITAL MARKETING DO FOR MY RENT TO OWN BUSINESS?
Creating a web-based brand image, getting your core values out on the web and training in-store staff is the start and will improve the number of leads and lead quality. However, marketing is a process that never ends and it needs to be refined frequently. The only problem is that you need to keep on the forefront of ideas that will improve the digital presence and lead quality for your rent to own agency. We can help you chart your digital future!